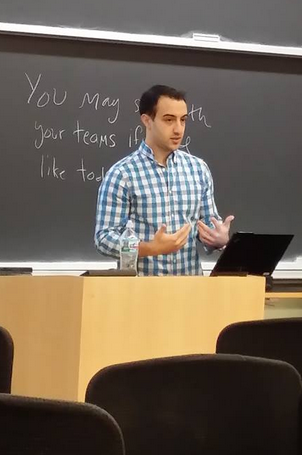 Nick Maglio has spent 8+ years creating slides for Fortune 100 companies, non-profits, and start-ups. Nick has a passion for teaching and helping others, which led him to develop this course to enable his peer students to produce their best work.
Nick has been teaching Hit the Deck for almost 3 years to well over 200+ undergraduate, MBA and EMBA students, corporate staff and non-profit employees. The class has been taught at the Stern School of Business, the Columbia Business School, the Kellogg School of Management, the Villanova School of Business, the Fuqua School of Business, the Sloan School of Management and the Wharton School, as well as consulting firms, financial services firms and non-profits. Nick has teaching experience spanning his whole life, teaching swim lessons and coaching soccer in high, peer tutoring at Villanova, teaching financial literacy at Murray Bergtraum High School, teaching a financial valuation class at Brooklyn Law School, and founding the Kellogg Boxing Club, where he was an instructor and trainer.
Nick is currently the Strategy Lead at Brown Brothers Harriman, after spending his entire career in client service with Deloitte Advisory and Deloitte Consulting. He has his MBA from Northwestern University's Kellogg School of Management and graduated magna cum laude from Villanova University. He is a die-hard Kansas City Chiefs fan, has visited all 6 inhabitable continents and loves cooking! He lives in Hoboken, NJ.